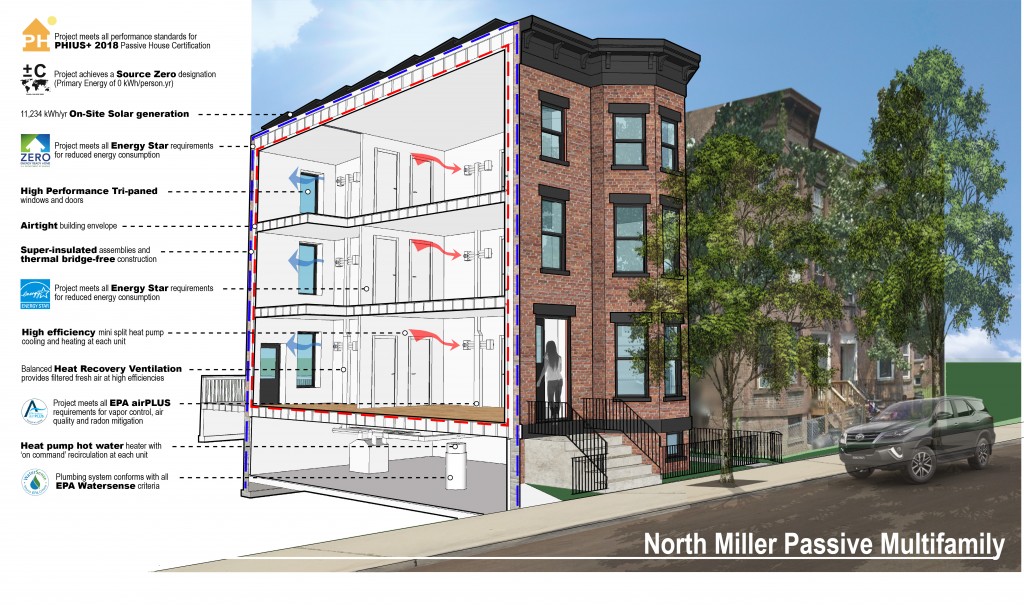 Michael Robinson of Urban Myth Construction held a grand opening ceremony for the North Miller Passive Multifamily project, a pioneering low-income project in the City of Newburgh. The Figure Ground Studio provided architectural services, with John Loercher of NE Projects taking the major technical and design lead. This was a monumental undertaking for Urban Myth Construction.
Michael was quoted in a recent article about the project in Newburgh's Times Herald-Record:
Robinson, of Cold Spring, has turned a former city-owned, three-story, multi-family home into three 800-square-foot apartments designed to be extremely energy efficient, keeping utility costs close to $0 year-round.
Robinson said the apartments are being developed for Section 8, or government-subsidized, housing.
He's doing most of the work himself with his friend Stephen McCann and various contractors.
"The reason I'm so into this idea of a Passive House, or something that's nearly equivalent … for low or moderate-income, is because If you are on a fixed-income, utilities kill people," Robinson said.
This point was driven home for him when Robinson saw a woman living next to his development outside her home crying. She told him she was hit with a $600 electric bill in February that she could not afford to pay.
"She was distraught," Robinson said.
To boot, she told Robinson she wasn't even living comfortably for how much electricity the old home demanded.