As could have perhaps been predicted, the main "challenge" of the Living Building Challenge, particularly during construction, is the Materials Petal. In this post I will discuss the Red List Imperative of the Materials Petal.
According to the International Living Futures Institute,
The intent of the Materials Petal is to help create a materials economy that is non-toxic, ecologically restorative, transparent, and socially equitable. Throughout their life cycle, building materials are responsible for many adverse environmental issues, including personal illness, habitat and species loss, pollution, and resource depletion.
I'd like to address each of the Materials Petal imperatives and discuss the challenges and solutions that we have come up with so far in order to attempt to achieve this Petal. In this post I will address: 10. Red List Imperative
Arguably the most famous portion of the Living Building Challenge, this imperative asks the project team to ensure that no product used in the building contains Red List Materials/Chemicals. These Red List Chemicals (as of this writing) include
Alkylphenols, Asbestos, Bisphenol A (BPA), Cadmium, Chlorinated Polyethylene and Chlorosulfonated Polyethylene, Chlorobenzenes, Chlorofluorocarbons (CFCs) and Hydrochlorofluorocarbons (HCFCs), Chloroprene (Neoprene), Chromium VI, Chlorinated Polyvinyl Chloride (CPVC)m, Formaldehyde (added), Halogenated Flame Retardants (HFRs), Lead (added), Mercury, Polychlorinated Biphenyls (PCBs), Perfluorinated Compounds (PFCs), Phthalates, Polyvinyl Chloride (PVC), Polyvinylidene Chloride (PVDC), Short Chain Chlorinated Paraffins; Wood treatments containing Creosote, Arsenic or Pentachlorophenol; and Volatile Organic Compounds (VOCs) in wet-applied products.
Due to supply limitations, there are exceptions to the Red List prohibitions. First of all, there is the General Red List Exception, which requires a project team to "make every attempt to design the product out of the project… To use this Exception, project teams must engage in and document a good-faith effort (or due diligence) to design the product out of the project; that they have researched alternatives; and that they have sought a Red List–free product from a minimum of three competing manufacturers."
The difficulty I have encountered in knowing if we are making a "good-faith effort" is that when manufacturers are contacted about red list materials, they often profess complete ignorance, and an inability to supply complete materials documentation for their products. Secondly, despite the ILFI request for materials list from past projects, the ILFI explicitly states that "[t]he lists themselves cannot be used for materials documentation. Project teams must independently confirm all materials ingredients."
This requirement in itself makes compliance quite challenging for a small team, and makes it almost necessary for us to make a good-faith effort during the Construction Document and Construction Administration phases as minor changes and substitution requests come up, and hope that we can complete the LBC documentation at the end of the process. The most successful implicatinos for the entire project team of attempting Red List compliance has been simple substution of materials. For example, to create a sleeve in the foundation wall, the mason, Perry Masonry, Inc., created this simple drain tile sleeve: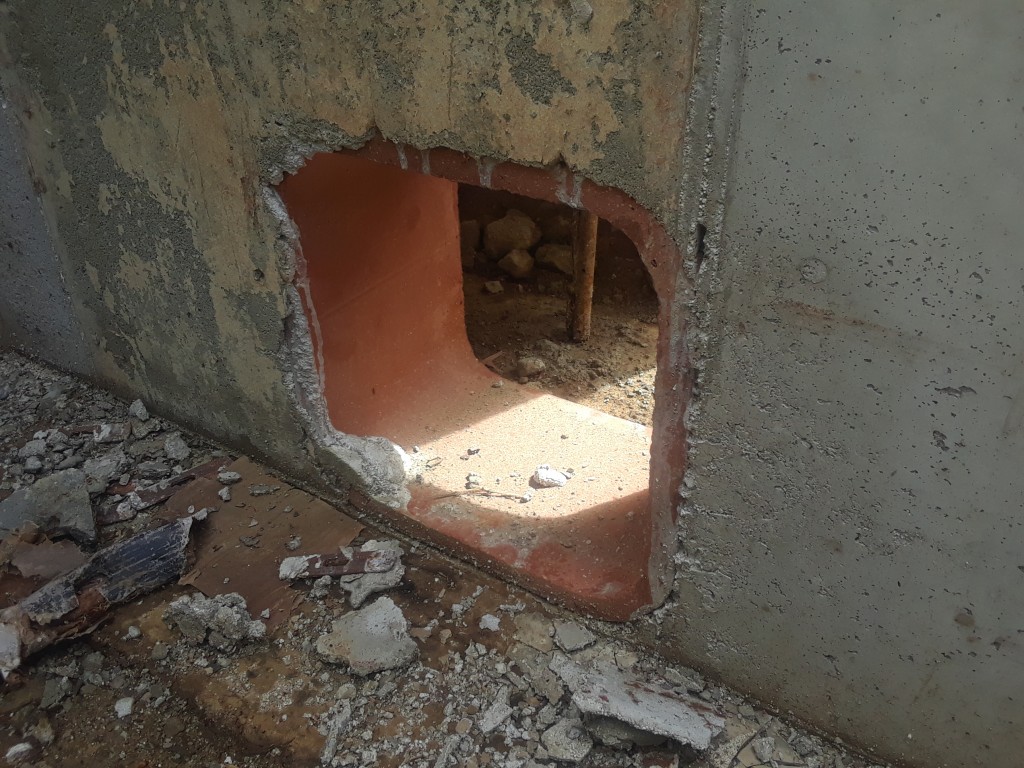 This was an on-the-fly substitution for PVC. Now, were we able to get Red List documentation for this drain tile? No. It was just lying around so we used it. I guess I'll find out if this sort of informal product use which is so common on small jobs – will sink our LBC documentation.
What about Declare and Past Projects?
There are a surprising number of products available at the Declare website – these are products that are documented to be Red List compliant in some form (or not). The Declare website, as of this writing, is abysmal in its functionality, and this makes using it a s a specifying tool quite difficult.
The challenge of institutional memory such as project Materials Lists and Declare product searching is the greatest impediment, as far as I am concerned, to successful Red List compliance. There needs to be a better pathway from past projects to current products in relation to approved product lists, Declare Label, etc. For a small office working on a small project, independent verification of Red List compliance, particularly of products that have been (recently) used on large Living Buildings seems onerous. In addition, documentation of past project materials is lacking some basic functionality. For example, it is often lacking material use – so if you are trying to find an adhesive, for example, there is almost no way to browse through past projects (or the Declare website) to find an adhesive. This makes using any of these resources for specifying mind-numbing. In fact, I have found that even manufacturer Red List compliance lists suffer the same problem. For example, the following Tremco list of LBC compliant products is only useful if you have complete knowledge of Tremco products, or have the time to painstakingly search for each of these products to figure out what it is and what its application is. Furthermore, I am not sure that this list could effectively be used for LBC documentation, meaning there is still the need to independently verify Red List compliance before a product is specified.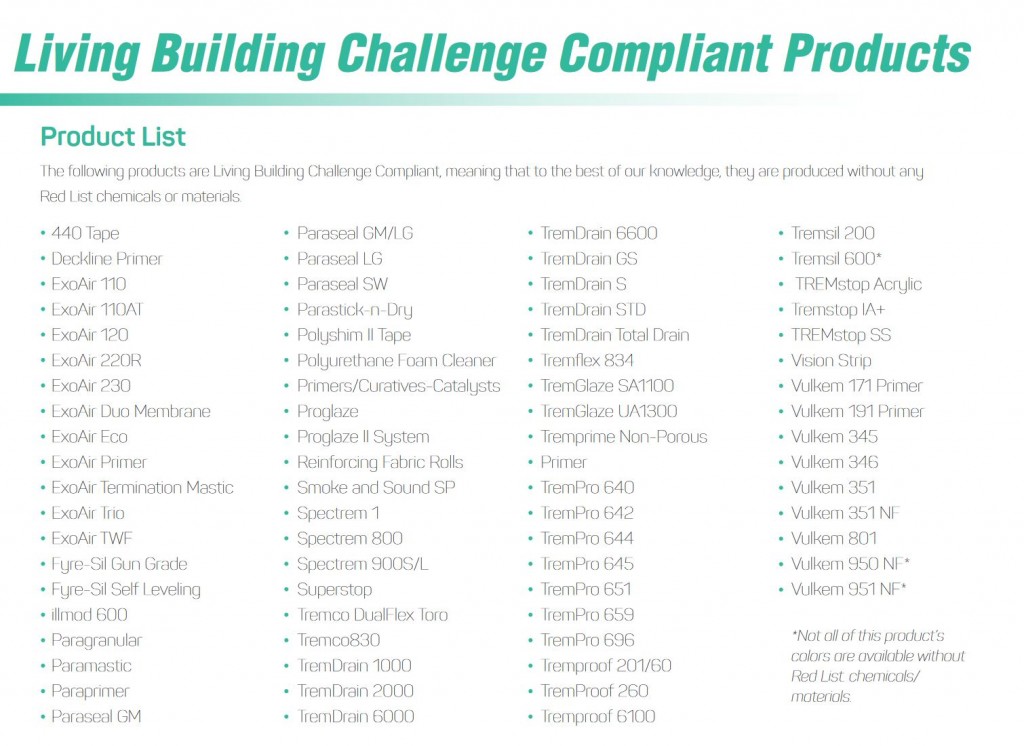 That being said – and all this complaining aside – we have found that in general, Red List compliance has been a positive step for the project team. In some instances, we have simply eliminated a product entirely, or sought out a product with a Declare label. In other instances, we have done our best to contact manufactures, read through SDS and MSDS sheets, consult product literature, and research online to try and figure out what certain products are made of. If we determine through this effort that they seem to be Red List compliant, we have specified them even without full documentation – this has been done in the name of expediency, as we have found that we cannot hold up the entire project to figure out if a particular polyethylene sheet product is made of just polyethylene while we are racing to cover a moisture sensitive portion of the project before an impending rainstorm.
Regarding Red List compliance, we are trying our luck, I suppose, but it also seems that as a small firm working on a small project, that getting more detailed data from manufacturers is like moving mountains – and we have to ensure overall project success (in terms of schedule, structural integrity, waterproofing, etc).